Product attributes is the set of its characteristics. Attributes are useful, to represent a technical specification of the product, or for the filtration of products displayed on the side of the store. Simplifies adding product data, due to the ability to create the required options and allow you to assign it to the required products instead of typing.
1. Go to Operate the store > Attributes(Product features).
2. Click on Add an attribute set from top right corner.
3. Fill in the field Name and toggle option Activity (gives you the ability to use a set of attributes, switches from edit mode to production mode) and optionally the option Show in browsing options (gives customers the opportunity to filter products in a given category with these attributes), and click Save.

4. From the menu that appears on the left side, select the tab Categories and select all categories in which the created attributes can be used, then click Save.

Note: You must select each category and subcategory in which you want to use the attribute set. It is not enough to select only the parent category.
5. From the menu on the left select tab Attributes, and then click Add Attribute.


6. Fill up the attribute details and save it.
Name - The name of the attribute. It would be visible on the product card on the website.


Type - There are three options to choose from:

text field

- If chosen Text field then you can input any text while assigning to the products.

check box - Visible on the product card as Yes / No. You would not be allowed to input any information.
selection list - Possibility to define more options to choose from while assigning to the products. 
Note: If you would like to use this information for filters then only Selection list data would be applicable.


Default value/Selected by default/Default choice - Defines the default state of the field


Active - Gives you the ability to use a particular attribute,

Description - Attribute description visible only to the administrator, when editing the attributes of a given product.


7.  You may add multiple attributes under one group by clicking the 'Add Attribute' button, that is, repeat step no. 5 and 6
Instructions for adding attributes to the product
1. Go to Operate the Store > Products.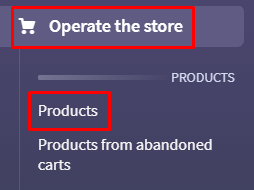 2. Edit the required product to which you would like to assign the attributes by clicking on the product name or from the drop-down menu in the Actions column.
3. From the menu on the left, select the Attributes tab and toggle button which is next to the name of the attribute set you want to activate. The list of attributes will expand. 




4. Fill in the fields with the required information and click Save.